Viton™ Profile Shapes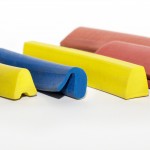 Viton™ Profile Shapes available in Durometers 60-90
In-House Tooling for most items
Standard and Metric Sizes
Let Rainbow Rubber be your Viton™ Profile Shapes supplier!
Looking for Viton™ Profile Shapes? We have a full line of Viton™ products available. Feel free to look around our website. Viton™ Profile Shapes can come in a variety of shapes and sizes. We offer custom fluroelastomer profile extrusions such as U-channels, P-strips, D-shapes, Parabolic and other custom profile shapes. Viton™ Profile Shapes can withstand high temperatures of 400° F for extended periods of time and/or excursions up to 600° F for short periods of time. Viton™ offers one of the widest ranges of fluid and chemical resistance in comparison to other commercial elastomers. If you have a harsh chemical environment Viton™ Square is an excellent choice. To place your order for any Fluroelastomer needs call us today at 330-848-2255.